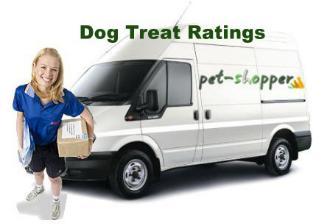 Dog Treat ratings out of 5
A helpful guide to dog treat ratings based on the quality and quantity of ingredients. As a general rule Pet Shopper does not recommend any dog treats which have a score below 3. The list below shows well known dog treats available in the UK by rating, starting with 5 star scores at the top and with the lowest scoring treats at the bottom.
All underlined linked dog treats are available from Pet Shopper
Dog Treats Rating 5 out of 5
Animal Antics Sweet potato treats 5
Anco Naturally Better treats 5
Fish4Dogs 5
K9 Natural Treats 5
Sea Treats 5
Dog Treats Rating 4 out of 5
Lilys Kitchen 4
Dog Treats Rating 3 out of 5
Barking Heads Bailey Bites 3
Company of Animals Coachies 3
James Wellbeloved Cracker Jacks 3
Hills Ideal Balance 3
Dog Treats Rating 2 out of 5
Greenies 2
Pets at Home Deli chicken & Cheese Treats 2
Wainwrights Wholesome Bites 2
Dog Treats Rating 1 out of 5
Pet Bakery 1
Bakers 1
Bonios 1
Pedigree 1
Pets at Home Chew Sticks 1
Winalot Shapes 1
The above ratings are based on a average score for the brands from allaboutdogfood.co.uk If your dog's treat is not listed here please visit them as a more comprehensive list is available there.
FREE DELIVERY ON ALL ORDERS OVER £50.00 TO UK MAINLAND
sales@pet-shopper.co.uk
pet-shopper.co.uk
32 Burscough St
Ormskirk
Lancs.
L39 2ES
UK

UK ORMSKIRK CUSTOMERS Free delivery from Pet Shopper to Ormskirk area within a 5 mile radius of Ormskirk town centre. Order through "contact us" option or by phone 01695 579827