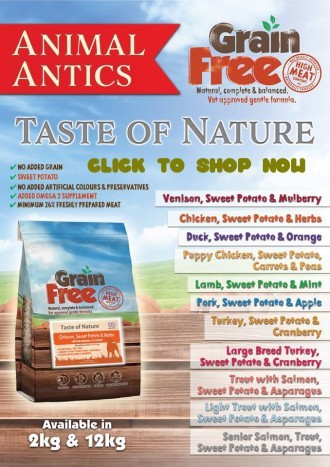 Taste of Nature
Taste of Nature is a family run business based in the heart of Ormskirk, Lancashire.
Taste of Nature Pet Foods have been developed with a pets's well-being in mind as we are passionate about pets.
Our aim is to provide quality natural pet food that is not only hypo-allergenic but all animal ingredients are free from artificial colours, flavours or preservatives and all animal ingredients are from one species.
Taste of Nature believe pet foods should only contain natural ingredients and not contain cereals such as wheat (which is associated with causing allergies in many pets).
Our philosophy is quality ingredients makes for a more contented dog or cat with less visits to the vets at an affordable price.
We only support local, independent pet shops so you won't find Taste of Nature Dog Food in supermarkets or pet superstores.
MADE IN BRITAIN
Pet Shopper are the sole distributors of Taste of Nature pet foods
Click on a image below to buy or for more information on Veterinary approved Taste of Nature products.
TASTE OF NATURE GRAIN FREE DOG FOODS
TASTE OF NATURE NATURALS RANGE
TASTE OF NATURE DOG TREATS
TASTE OF NATURE CAT FOODS
FREE DELIVERY ON ALL ORDERS OVER £50.00 TO UK MAINLAND
sales@pet-shopper.co.uk
pet-shopper.co.uk
32 Burscough St
Ormskirk
Lancs.
L39 2ES
UK

UK ORMSKIRK CUSTOMERS Free delivery from Pet Shopper to Ormskirk area within a 5 mile radius of Ormskirk town centre. Order through "contact us" option or by phone 01695 579827