Whimzees Toothbrush Extra Small Dog Treats 70mm Box of 350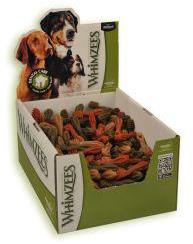 The rounded points of the Whimzees toothbrush from Paragon help to clean the smaller spaces between the teeth. A satisfyingly long and textured treat.
All paragon Whimzees chews are natural, vegetable based, healthy and 100% edible, vegan, and dogs love them.

RRP: £87.50 £82.50
You may also be interested in: