Whimzees Star Stix Large 180mm box of 50
£67.50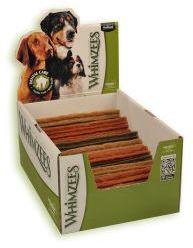 A great dog treat from Whimzees, all natural dental stick. A fun, unique, knobbly shape that helps to ensure proper blood flow through the gums whilst also preventing the build up of tartar. Easy to use as a satisfyingly long and textured treat.
Natural flavour veggie sticks designed to clean the teeth. Entirely natural ingredients and completely digestible. Mixed packs can contain Natural, Greens, Paprika and Calcium flavours. 100% natural, vegetable based dog snack that have a minimal fat content. Made from compounded vegetable fibres, this product offers a healthy alternative to all breeds of dog.
The Whimzees dog chews range are available in a range of different shapes and sizes which are specifically designed to help keep dogs' teeth and gums healthy. The range is made from the highest quality ingredients to provide the nutrients needed to keep your dog healthy.
KEY BENEFITS FROM THIS PRODUCT:
100% natural
healthy & tasty
entirely edible
ideal for cleaning your dog's teeth
minimal fat content
no artificial colourings or additives
vegan
Available in 120mm, 150mm, 180mm and 240mm, in the all natural green, orange or brown colour.

RRP: £77.50 £67.50
You may also be interested in: