Walter Harrisons Ultimate Energy No Mess 2Kg
£5.99
Walter Harrisons Garden Friends Ultimate Energy No Mess is a super premium seed mix with the addition of energy rich fruit and berry suet pellets and protein rich mealworms. Other ingredients include sunflower hearts, maize, fledgling safe peanut granules and millet. The husk free mix is 100% edible, resulting in no mess left under the feeder, etc. Suitable for feeding all year round, this attractive looking mix is a 5 star attractor? and will appeal to a wide variety of birds. The free flowing mix can be fed from a feeder, bird table or on the ground.
Super premium, high energy seed mix with Berry and Fruit Suet pellets and mealworms.
Husk free wild bird seed mix
100% edible
No waste no mess.
Ingredients: Sunflower Hearts, Cut Maize, Peanut Granules, Yellow Millet, Suet Pellets (6%), Mealworms (2%), Soya Oil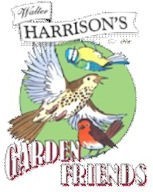 Walter Harrisons variety attractors Garden Friends wild bird food range
RRP: £6.99
£5.99
You may also be interested in: