Walter Harrisons Premier Wild Bird Food 2kg
£3.99
Walter Harrisons Premier Wild Bird seed is Formulated with a wide selection of premium quality ingredients. 100% wheat free mix. Can be fed from a seed feeder, bird table or on the ground. Our bestselling mix.
Ingredients: Cut Maize, Red Dari, Yellow Millet, Pinhead Oatmeal, Black Sunflower, Sunflower Hearts, Canary Seed, Buckwheat, Safflower Seed, Linseed, Peanut granules, Nyger Hemp, Soya Oil
Highly nutritious and wheat free premier mix offers the very best selection of seeds available. formulated to attract the widest range of birds to your garden,with no wheat in the mix it means less mess by discouraging pigeons and doves from visiting your table.
Walter Harrisons variety attractors wild bird food range.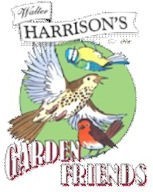 £3.99
You may also be interested in: