RelaxoPet Pro Dog Animal relaxation trainer for dogs
£69.90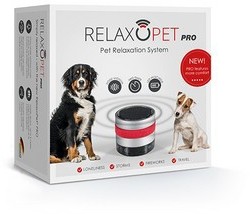 Many pet owners are familiar with the problem that their loyal companion, despite good upbringing and training, is simply overwhelmed in stressful situations and shows unwanted behavioral problems (e.g. while driving, alone at home, visiting the vet, unexpected noises such as fireworks, etc.) RelaxoPet PRO Animal relaxation trainer has recognized this problem and is successfully helping to avoid these stressors with its specially developed subliminal (subliminal, frequent vibrations and tone sequences), whether in your own four walls or in a non-animal environment, because RelaxoPet PRO Animal relaxation trainerworks completely independently of a socket due to the powerful lithium battery.
NOISE-MOTION sensor The newly integrated NOISE-MOTION sensor removes the work of all pet owners when they are away and switches them on automatically when stressors occur.
PER TIMER Thanks to the new PRO TIMER, the sounding time can be selected individually (4 h or permanent).
The RelaxoPet PRO Animal relaxation trainer works with its special sound versions, tailored to the sensitive hearing of dogs, and let the animal relax deeply. The owner can use the RelaxoPet PRO Animal relaxation trainer choose whether the output is with or without additional relaxation music, a simple switch is enough and RelaxoPet PRO already works Animal relaxation trainer silent for human hearing. A wide variety of stressful situations, such as during a thunderstorm, changing surroundings, fireworks are finally a thing of the past.

£69.90
FREE DELIVERY ON ALL ORDERS OVER £50.00 TO UK MAINLAND
sales@pet-shopper.co.uk
pet-shopper.co.uk
32 Burscough St
Ormskirk
Lancs.
L39 2ES
UK

UK ORMSKIRK CUSTOMERS Free delivery from Pet Shopper to Ormskirk area within a 5 mile radius of Ormskirk town centre. Order through "contact us" option or by phone 01695 579827