Pooch & Mutt Fresh Breath Mini Bone Dog Treat 125g
FRESH BREATH dog treats are natural, ethical, low-calorie, gluten-free, hand-baked mini-bones that dogs love.
They include chicken, parsley, peppermint oil and chicory. Parsley is a source of chlorophyll, a natural deodoriser. Peppermint not only gives breath a fresh scent, it can also aid digestion. Poor digestion is often a cause of bad breath. Chicory is a natural prebiotic that can help the proper functioning of the digestive system. The biscuit's abrasive action can clean your dog's teeth as they chew.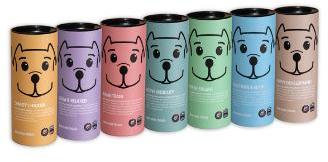 £3.29
You may also be interested in: