Pooch and Mutt Bionic Biotic 200g Supplement For Dogs
£9.99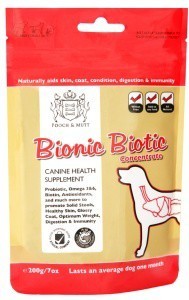 Details: Pooch & Mutt Bionic Biotic Canine Health Supplement, is a complementary food for dogs. Made with human grade natural ingredients to promote healthy skin, coat, condition, digestion & immunity.
THE PROBIOTIC SUPPLEMENT FOR DOGS TO PROMOTE: – Solid Stools - Healthy Skin (with no itching & redness) - A Glossy Coat - Optimum Weight - Digestion - Immunity
Frequently asked questions Is it suitable for all dogs? Yes.
Can you feed it to dogs with… Diarrhoea/ soft stools? – YES Digestive problems? – YES Weight problems? – YES Skin irritation? – YES Skin problems? – YES Coat problems? – YES Lack of Fur/ hair? – YES Immune difficiences? – YES Pancreatis? – YES Collitis? – YES Stomach ulcers? – YES What is the difference between the original pellet form and the NEW powdered concentrate? Both versions contain the same active ingredients that do the same job. The concentrated powder is more concentrated, meaning that you need to give less to get the same amount of active ingredients. The reason that we offer both forms is that some dogs/owners prefer the pellets (which we have had on sale since we started) and some prefer the new powdered products.
Can I feed Bionic Biotic with Mobile Bones? Yes
Can I feed Bionic Biotic to a pregnant/ lactating bitch? Yes. Not only will this help with the bitch's condition, it will also help with lactation and the nutrient density of the milk – meaning that the puppies will benefit too.
Can I feed Bionic Biotic to puppies? Yes. You can feed Bionic Biotic to puppies as soon as they are on solid food. As the amount that you feed depends on the dog's weight a puppy will get less than an adult dog.
What is a Probiotic? A probiotic promotes the optimum levels of 'friendly bacteria' in the gut, which allows the digestive system to work properly. A probiotic is the reason that humans have natural yoghurt and products like Yackult.
How long before I notice a difference? We would expect you to notice a difference within 3 weeks, but every dog is different and it depends on the condition that you are hoping that the product will help with. If the condition is a visual one we recommend that you take a photo before your dog has the product and another one after about 5-6 weeks.
£9.99
You may also be interested in:
FREE DELIVERY ON ALL ORDERS OVER £50.00 TO UK MAINLAND
sales@pet-shopper.co.uk
pet-shopper.co.uk
32 Burscough St
Ormskirk
Lancs.
L39 2ES
UK

UK ORMSKIRK CUSTOMERS Free delivery from Pet Shopper to Ormskirk area within a 5 mile radius of Ormskirk town centre. Order through "contact us" option or by phone 01695 579827