Phytopet Eye Wash
£6.78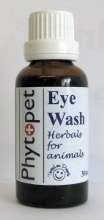 Eye Wash For itchy eyes
Brief Description A combination of herbs traditionally used for all types of eye infections. Indications Conjunctivitis, Blephoritis, Styes, Tired Eyes/Eye Strain, etc
Full Description Chamomilla recutita (Chamomile, German): Chamomile is revered for its antiinflammatory, soothing properties. Topically Chamomile has been used for all irritations from hives to burns. A traditional wound healer used for over 2000 years and mentioned in all medicinal disciplines. A medicine chest in one flower. Eyebright (Euphrasia officinalis): The herb of choice for most eye disorders. Its actions are astringent and toning. Shown to contain at least eight iridoid glycosides, including aucubin a powerful natural anti-toxin. Calendula (Calendula officinalis): Calendula has been shown to exert a powerful antiinflammatory, anti-fungal, astringent and antiseptic action. One the herbalists most used remedies. Traditionally used for all inflammatory and infected conditions. Golden Seal (Hydrastis canadensis): Rich in the alkaloids hydrastine and berberine, both have been shown to exert potent anti-bacterial and anti-inflammatory properties. Goldenseal was once, one of the main ingredients of Golden Eye Ointment. Witch Hazel (Hamamelis virginiana): Although widely known for its astringent and haemostatic properties, Witch Hazel is traditionally used in eye drops. Suggested use: External Use Only.
£6.78
FREE DELIVERY ON ALL ORDERS OVER £50.00 TO UK MAINLAND
sales@pet-shopper.co.uk
pet-shopper.co.uk
32 Burscough St
Ormskirk
Lancs.
L39 2ES
UK

UK ORMSKIRK CUSTOMERS Free delivery from Pet Shopper to Ormskirk area within a 5 mile radius of Ormskirk town centre. Order through "contact us" option or by phone 01695 579827