Phytopet Calm For Stressful Cats
£7.99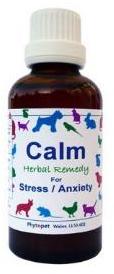 Phytopet Calm herbal support for Stress & Anxiety Fast acting, Works Within 20mins. Liquid Botanical Extract for ease of administration, no fighting to give tablets. Concentrated, only requires a small drop amount. Just add to food, treat or drinking water.
Phytyopet's famous, fast acting herbal supplement contains a combination of botanical extracts to help Calm your pet. Works within 20mins, ideal for firework season, and anytime your pet is stressed or anxious.
Contains:
Valerian (Valeriana officinalis): Many studies have shown Valerian to be a powerful, nonaddictive and anti-spasmodic nerve relaxant, sedative, and pain reliever. Its actions are due to its calming and balancing effect on the central nervous system. Traditionally used for all states of nervous anxiety and irritability, agitation and hysteria, tension migraines and insomnia.
Skullcap (Scutellaria laterifolia): A good relaxing herb, known to exert a tonic effect on the nervous system. A wonderful non-addictive remedy, traditionally used for nervous tension, anxiety, hysteria, agitation, insomnia, muscle cramps and spasm and tension headaches.
Oats (Avena sativa): Gentle calming herb with a special affinity with the nervous system. In combination with Valerian the synergy is special, each herb enhancing the action of the other.
Passionflower (Passiflora incarnata): A wonderful herb traditionally used for insomnia, anxiety and irritability, its non-addictive calming effect is due to its action on the central nervous system.
£7.99
FREE DELIVERY ON ALL ORDERS OVER £50.00 TO UK MAINLAND
sales@pet-shopper.co.uk
pet-shopper.co.uk
32 Burscough St
Ormskirk
Lancs.
L39 2ES
UK

UK ORMSKIRK CUSTOMERS Free delivery from Pet Shopper to Ormskirk area within a 5 mile radius of Ormskirk town centre. Order through "contact us" option or by phone 01695 579827