Pet Munchies Chicken and Calcium Bones 100g
£3.29
Chicken & Calcium Bones - NEW 100% Natural Real Chicken wrapped around a Calcium Bone. This is the ultimate treat for growing dogs. Calcium is good for teeth development and healthy bones. A premium quality gourmet treat, delicious and nutritional.
Today's consumers are demanding natural healthy products for their pets. And that's what you'll get with a Pet Munchies - the brand you can trust.
Our products are naturally low in fat & carbohydrates, high in protein and very nutritious. Delicately roasted to perfection to ensure quality and flavour. No artificial preservatives, flavourings colourings or additives are in our products.
Plus, they are the perfect size and texture for any dog and cats love em too! Just break into smaller pieces for toy breed dogs and cats. Even our Senior dogs with tender gums can enjoy these treats.
We know dog treats are both healthier and tastier if they're made from pure, natural ingredients without additives or added sugar. So that's exactly how we make our treats. And that's what makes them completely different from other treats. What's more, dogs love the way they taste. It's all down to the ingredients. Every one of our products are –Sealed with a Dogs Approval-.
FREE DELIVERY ON ALL ORDERS OVER £50.00
Pet Munchies dog treat range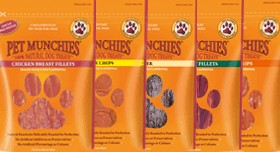 £3.29
You may also be interested in: