Pet Head Sensitive Soul Shampoo 300ml
£11.49
Sensitive skin - our coconut sensitive soul shampoo is great to soothe our pooches' delicate skin and make that tail wagging again. Our coconut fragrance has a tropical fruity nutty sweet note with some vanilla nuances.
With Natural oil & Extracts - Our sensitive coconut shampoo is packed with oatmeal and marula oil, gently cleansing and calming delicate skin. Both Oatmeal and Calendula extract act as anti-inflammatory and soothing with their properties whilst Marula oil give that extra moisture and nourishing effect.
High quality ingredients - all Pet Head products are pH balanced, contain aloe vera & vegetable protein and are packed with natural and wholesome ingredients. All our fragrances are exclusive to Pet Head and were designed and formulated with rare & upmarket ingredients leaving your pooch smelling amazingly fresh & fruity.
Directions - Wet your dog's coat and massage the shampoo in gently, rinse thoroughly and towel dry or blow dry for optimal results. Pair the shampoo with our Sensitive soul conditioner and spray for great results and a happy 4 legged coconut.
Safe - for you and your dog. All Pet Head products are free from all nasties - no parabens surfactants or dyes. Gluten & nut free for safety. We are transparent, all our ingredients are fully listed in our packaging. Pet Head is proudly vegan and cruelty free.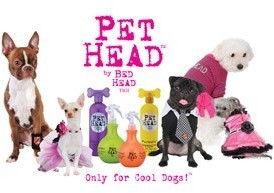 £11.49
You may also be interested in: