Otodex Skin Cream 35g
£7.99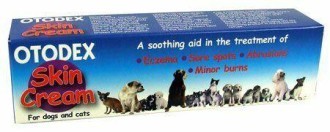 Otodex skin cream is a soothing aid in the treatment of eczema, sore spots, abrasions and minor burns in dogs and cats.
Otodex Skin Cream is made up of an effective analgesic to quickly alleviate pain, and a mild astringent to reduce haemorrhaging and weeping from minor injuries, calming and covering the wound.
Otodex Skin Cream. Ideal for a wide range of skin complaints or injuries. Reduces bleeding and protects against infection. Quick soothing action.
Active Ingredients Chlorocresol 0.50% w/w Phenoxyethanol 0.72% w/w Zinc Oxide 9.00% w/w Lidocaine hydrochloride 0.05% w/w
Directions of Use :
Clean wound, carefully remove overlying hair from affected parts and lightly apply cream night and morning. If symptoms persist or appear, consult your veterinary surgeon.
FOR EXTERNAL USE ONLY. APPLY SPARINGLY IN SEVERE CASES FOR ANIMAL TREATMENT ONLY.
£7.99
FREE DELIVERY ON ALL ORDERS OVER £50.00 TO UK MAINLAND
sales@pet-shopper.co.uk
pet-shopper.co.uk
32 Burscough St
Ormskirk
Lancs.
L39 2ES
UK

UK ORMSKIRK CUSTOMERS Free delivery from Pet Shopper to Ormskirk area within a 5 mile radius of Ormskirk town centre. Order through "contact us" option or by phone 01695 579827