M & C Vet IQ Senior Care for Dogs and Cats (45Tabs)
£7.69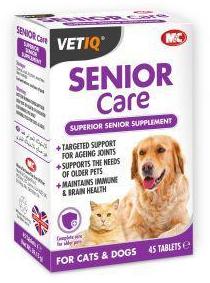 M & C Vet IQ Senior Care "formerly known as Geriatr UM for Dogs" is specifically designed as a daily complement to your dog's existing diet. It contains more than 20 essential nutrients and dietary fibre giving great taste & palatability. Ginseng and Green-Lipped Mussel has also been added to promote energy and vitality and to help in the maintenance of good health in old age. Based on a proven formula, it is ideal for dogs of all ages and can be especially helpful for invalid and convalescing dogs. It can also be helpful for pregnant bitches.
As pets get older their nutritional needs change. VetIQ® Senior Care ( geriatrium)is a unique concentrated source of natural active ingredients, specially formulated to help provide superior health support for cats & dogs aged 6 years and over. VetIQ® Senior Care contains Chondroitin, Glucosamine and Green Lipped mussel and is specifically designed to deliver targeted support for ageing joints. VetIQ® Senior Care also contains a full complement of vitamins, amino acids, minerals and Ginseng which are proven to help maintain the immune system and aid in increasing energy and stamina during physical activity which is necessary for ageing pets. Provides a daily requirement of nutrients that may be missing from their diet due to lowered food intake or loss of appetite.
formerly known as Geriatri-UM for Dogs
£7.69
FREE DELIVERY ON ALL ORDERS OVER £50.00 TO UK MAINLAND
sales@pet-shopper.co.uk
pet-shopper.co.uk
32 Burscough St
Ormskirk
Lancs.
L39 2ES
UK

UK ORMSKIRK CUSTOMERS Free delivery from Pet Shopper to Ormskirk area within a 5 mile radius of Ormskirk town centre. Order through "contact us" option or by phone 01695 579827