M & C Vet IQ Healthy Bites Hairball Remedy Cat Treats
£1.99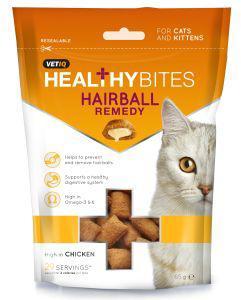 VETIQ Healthy Bites Hairball Remedy helps to prevent and eliminate the formation of hairballs in cats. Our unique delivery system enables them to deliver the functional ingredients in a delicious creamy filling. VETIQ Healthy Bites Hairball Remedy are high in meat content, wheat and soya free and are less than 2 calories per bite. Each creamy bite contains malt and inulin to help support healthy digestion which means preventing hairballs couldn't be less hassle free The VETIQ Healthy Bites range are suitable for all cats on weight management plans especially sterilised cats.
Tasty Cat snack from Mark and Chappell with a creamy filling that contains active ingredients to help prevent and remove hairballs in cats and kittens.
These tasty cat treats contain the same active ingredients as traditional hairball pastes.
As cats and kittens groom themselves, they pull loose hair from their coats, which is swallowed and accumulates in their stomach.
Signs of hairball are constipation, gagging, coughing and vomiting.
Regular use of these hairball remedy Treats, in combination with frequent grooming, can prevent the formation of hairballs.
Give 2-3 treats daily if you suspect furball problems. Approx 70 treats per bag
Helps keep your cat hairball free.
65g
£1.99
You may also be interested in:
FREE DELIVERY ON ALL ORDERS OVER £50.00 TO UK MAINLAND
sales@pet-shopper.co.uk
pet-shopper.co.uk
32 Burscough St
Ormskirk
Lancs.
L39 2ES
UK

UK ORMSKIRK CUSTOMERS Free delivery from Pet Shopper to Ormskirk area within a 5 mile radius of Ormskirk town centre. Order through "contact us" option or by phone 01695 579827