KONG Zoom Groom Blue
£7.42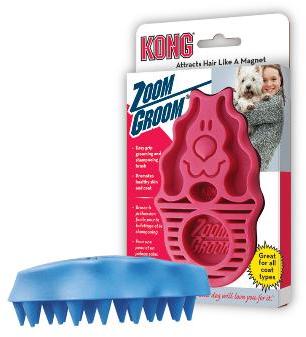 Blue Zoom Groom, the best grooming and shampooing brush available from KONG the Zoom Groom.
Pets that hate grooming love Zoom-grooming
Stimulates capillaries and natural oil production for healthy skin and coats
The ultimate massage experience
Builds a bond between pet and owner
Removes loose hair like a magnet
Massages while you brush
Effective for all dogs and coat types.
Easy to hold, use and clean
DOG ZOOM GROOM PUTS PLEASURE INTO GROOMING
Grooming is an intensely social activity among wild dogs and cats, as well as a way to keep clean and healthy. The Zoom Groom gives us the opportunity to build a trusting bond with our pets in this essential way. The gentle rubber fingers groom and massage while removing loose hair and dead skin. Even the most reluctant pet will love to indulge in this most natural pleasure.
£7.42
FREE DELIVERY ON ALL ORDERS OVER £50.00 TO UK MAINLAND
sales@pet-shopper.co.uk
pet-shopper.co.uk
32 Burscough St
Ormskirk
Lancs.
L39 2ES
UK

UK ORMSKIRK CUSTOMERS Free delivery from Pet Shopper to Ormskirk area within a 5 mile radius of Ormskirk town centre. Order through "contact us" option or by phone 01695 579827