Just 4 Pets Wooden Chew Carrot Cruncher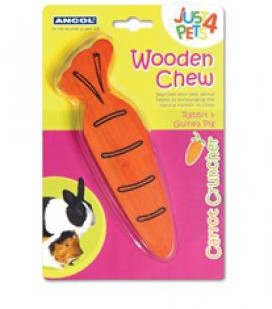 Stuck in a cage all day is not much fun, even for a hamster! We are developing a range of items that will add some interest to the life of your rabbit, hamster, mouse or Guinea Pig. Simple wood treats, safe and non toxic for the chewers. Some small nesting areas for smaller animals and a wire treat holder for all. Don't forget that Ferrets can also benefit from having these items around.
Colourful wood shape to encourage rodent dental health. Good for Rabbits, Guniea Pigs, Hamsters, Gerbils etc. Bright colourful pack.
Ancol Pet Products Ltd
£1.99
FREE DELIVERY ON ALL ORDERS OVER £50.00 TO UK MAINLAND
sales@pet-shopper.co.uk
pet-shopper.co.uk
32 Burscough St
Ormskirk
Lancs.
L39 2ES
UK

UK ORMSKIRK CUSTOMERS Free delivery from Pet Shopper to Ormskirk area within a 5 mile radius of Ormskirk town centre. Order through "contact us" option or by phone 01695 579827