Joint Aid For Dogs 250g
£12.00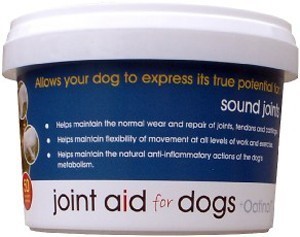 JOINT AID FOR DOGS 250G Through the use of 11 specific nutricines, Joint Aid provides support to the normal wear and repair of cartilage, synovial fluid, tendons and joints in the skeletal structure, helping to maintain flexibility of movement throughout the life of the dog. Key Benefits:
Helps maintain the natural anti-inflammatory actions of the dogs' metabolism.
Supports the normal wear and repair of cartilage and synovial fluid.
Provides the building blocks required for natural replenishment.
Wheat gluten free.
Contains 11 active ingredients, including: chondroitin, collagen, curcumin, glucosamine, glutamine, MSM and vitamin C, plus Oatinol derived: antioxidants, polar lipids, beta glucans and galactolipids.
Contains the Oatinol Delivery System to maintain a healthy digestive tract and a high rate of absorption of essential nutricines, vitamins and trace elements. Through the addition of the following specific nutricines, Joint Aid provides a complementary nutritional support for all dogs. Nutricine / Active Ingr.
Why We Use It
Chondroitin
Chondroitin is essential for the resilience of cartilage by maintaining the resistance to compression. It also aids the repair and formation of connective tissue.
Collagen
Collagen possesses great tensile strength and provides the body's tissues with their firmness and strength. Referred to as the "glue that holds the body together", it is essential for connecting and supporting the bones, tendons, muscles and cartilage.
Curcumin
Curcumin is the active ingredient of the spice, turmeric. It is a natural and powerful antioxidant and supports the normal anti-inflammatory action of the body.
Glucosamine
Glucosamine gives cartilage its strength, structure and shock absorbing qualities. It is involved in the formation of tendons, skin, bone and ligaments and is found in high concentrations in connective tissue and cartilage.
Glutamine
Glutamine is a protein derived amino acid that supports the natural immune response and is essential for gut wall integrity. MSM (Methylsulfonylmethane) MSM is a source of natural organic sulphur. Sulphur is found in high concentrations in joints and helps to form cross links with other molecules that maintain the strength and integrity of connective tissues.
Vitamin C
Vitamin C is essential for the production of collagen in the body that forms the matrix of connective tissues in mammals. It directly affects the level of tissue growth, development or repair after injury so is crucial for healing and the body's immune system.
Contains the Oatinol® Delivery System
For all of the above nutricines to be utilised, they have to be absorbed from the dogs' digestive tract. Oatinol supplies natural antioxidants, polar lipids, beta glucans and galactolipid emulsifiers, required to maintain gut cell integrity, maintain the lining of the gut, support the immune system and aid the absorption of nutricines, vitamins and trace elements.
£12.00
FREE DELIVERY ON ALL ORDERS OVER £50.00 TO UK MAINLAND
sales@pet-shopper.co.uk
pet-shopper.co.uk
32 Burscough St
Ormskirk
Lancs.
L39 2ES
UK

UK ORMSKIRK CUSTOMERS Free delivery from Pet Shopper to Ormskirk area within a 5 mile radius of Ormskirk town centre. Order through "contact us" option or by phone 01695 579827