Comfort Zone Calming Vest X Small
£34.99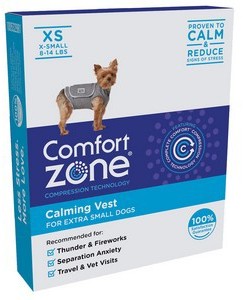 Comfort Zone Calming Vest XS for dogs with a chest size of 14" up to 19", Recommended for Thunder & Firwoks, Separation Anxiety, Travel & Vet visits.
Use Comfort Zone Calming Vest for: Fear of Thunder; Separation Anxiety; Barking Problems; Any Noise Anxiety; Car or Travel Anxiety; Crate Anxiety; Reactivity; General Fearfulness; Excitability; Leash Pulling; General Training Tool
How does it work? Comfort Zone Calming Vest is a pressure wrap that applies a gentle, constant pressure to a dog's torso; pressure has a calming effect on the nervous system and is proven to significantly reduce the symptoms of anxiety in most dogs, including.
Noise anxiety
Car, crate and travel anxiety
Separation anxiety
Firework and thunderstorm anxiety
Continuous or antisocial barking
General excitability
General nervous
Lead pulling
The Comfort Zone Calming Vest works because like giving a hug, or swaddling a baby, the constant gentle pressure applied around your dog's chest and torso helps her/him feel safe and secure. With this wonderfully induced sense of security she/he feels calmer and displays amazingly quieter and more relaxed behaviour. Comfort Zone Calming Vest has been proven to work on 85% of distressed or anxious dogs.
Comfort Zone Calming Vest is available in different sizes to suit the variation of size within each individual breed. To ensure correct size for your dog, measure completely around the chest, just behind the front legs.
Choose Comfort Zone Calming Vest because…
Simple to fit and easy to adjust
Lightweight breathable
Water resistant, antibacterial and machine washable at 40 degrees
100% satisfaction guarantee
The Comfort Zone Calming Vest has been proven to work on most distressed or anxious dogs, and with a 100% money back guarantee, if for any reason you are not fully satisfied simply return your Calming vest to us within 90 days of purchase for a full refund.
£34.99
You may also be interested in:
FREE DELIVERY ON ALL ORDERS OVER £50.00 TO UK MAINLAND
sales@pet-shopper.co.uk
pet-shopper.co.uk
32 Burscough St
Ormskirk
Lancs.
L39 2ES
UK

UK ORMSKIRK CUSTOMERS Free delivery from Pet Shopper to Ormskirk area within a 5 mile radius of Ormskirk town centre. Order through "contact us" option or by phone 01695 579827