Chuckit Sport 14 Ball Launcher Small 36cm
£9.99
Sporty look and feel with excellent grip, making it possible to launch the ball with accuracy, distance and control. Chuckit Ball included.
Suitable for Small Dogs
This item can launch a ball 2 times than your arm
Also it can pick the ball up off the floor so it keeps your hands clean and dog sliva free.
Great for outdoor play or retrieve training.
Small - 36cm
Chuckit Ball No ordinary ball, designed for the most demanding use. Developed to have high bounce, high buoyancy and high visibility. Durable, the Ultra Ball lasts longer than ordinary tennis balls.
Colours may vary.
Chuckit dog toys have revolutionised the game of fetch. They make a fantastic range of quality dog toys which are fun, functional and innovative. Floating, flying, soaring, bobbing and even toys for tug. Chuckit dog toys are, in our opinion, the best that money can buy.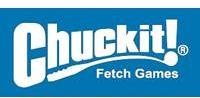 £9.99
You may also be interested in: