Beaphar Anti Parasite Spot on For Gerbils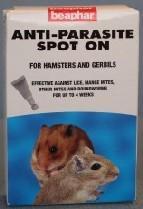 Beaphar Anti Parasite Spot on For Gerbils
Beaphar Anti Parasite Spot on For Gerbils Convenient ready-to-use pipettes for the treatment of parasites on hamsters and gerbils. An approved veterinary preparation containing ivermectin. Simply squeeze the contents of the pipette onto the back of your pet to control external parasites such as mites lice fleas and ticks plus internal parasites such as roundworms.
This size of treatment is suitable for use on animals over 50g such as golden hamsters gerbils and mice.
Effective against lice, mange mites, other mites and roundworms, for up to 4 weeks.
Contains Ivermectine, 25ug per pipette.
Beaphar Pet Products
£5.75
FREE DELIVERY ON ALL ORDERS OVER £50.00 TO UK MAINLAND
sales@pet-shopper.co.uk
pet-shopper.co.uk
32 Burscough St
Ormskirk
Lancs.
L39 2ES
UK

UK ORMSKIRK CUSTOMERS Free delivery from Pet Shopper to Ormskirk area within a 5 mile radius of Ormskirk town centre. Order through "contact us" option or by phone 01695 579827