Aqueos Spray On Plaster 200ml
£14.49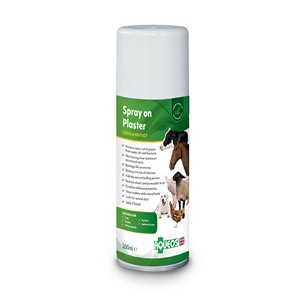 The award winning spray on plaster is an essential first aid item for dog, horse or any animal owner. The plaster gives a bandage like protection by forming a barrier to protect cuts and minor wounds from dirt, water and germs. This then lets the cut or wound heal naturally while being protected.
The silver covering remains elastic and permeable to air, It is easy it apply to awkward areas and stays in place while the area heals.
Depending where the area is, the spray will last a few days and can just be re-applied as needed. It is safe if animals lick the area covered.
A handy item for any mishaps while out walking dogs or horse riding.
Used by professional dog groomers
Competition safe for professional equestrians.
An essential for any animal lover or professionals first aid box
Protects minor cuts and grazes from dirt, water and bacteria
Film forming silver aluminium micronized spray
Bandage like protection
Aids the natural healing process Remains elastic and permeable to air
Excellent adhesive properties
Easy to apply on awkward areas
Stays in place while minor wound heals
Lasts for several days
Safe if licked by animal
£14.49
You may also be interested in:

FREE DELIVERY ON ALL ORDERS OVER £50.00 TO UK MAINLAND
sales@pet-shopper.co.uk
pet-shopper.co.uk
32 Burscough St
Ormskirk
Lancs.
L39 2ES
UK

UK ORMSKIRK CUSTOMERS Free delivery from Pet Shopper to Ormskirk area within a 5 mile radius of Ormskirk town centre. Order through "contact us" option or by phone 01695 579827