All for Paws Chill Out Dog Life Jacket Small
£32.99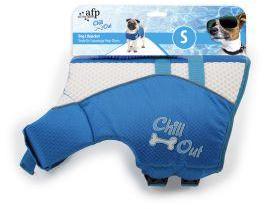 This small life jacket will help your dog float in water, and with its vivid colors and reflective strip you will always be able to see him. The easy grap handle will help you to take your dog out of the water.
These Rugged Pet Life Jackets are highly reflective and have strong padded straps to help ensure that your dog is able to float if in difficulty.
Life jackets are the best way to protect your dog when sailing or on boat trips. You can make sure your dog stays safe by using a dog life jacket.
The back of the dog life jacket is fitted with sturdy handle by which the dog can be guided in the water or lifted out.
There are three sizes with enough adjustability to suit most dogs.
Help to ensure your pets safety this Summer!
S chest 32-47cm neck 24-29cm
M chest 40-55cm neck 27-32cm
L chest 50-64cm neck 32-38cm
AFP All For Paws
£32.99
You may also be interested in:
FREE DELIVERY ON ALL ORDERS OVER £50.00 TO UK MAINLAND
sales@pet-shopper.co.uk
pet-shopper.co.uk
32 Burscough St
Ormskirk
Lancs.
L39 2ES
UK

UK ORMSKIRK CUSTOMERS Free delivery from Pet Shopper to Ormskirk area within a 5 mile radius of Ormskirk town centre. Order through "contact us" option or by phone 01695 579827