Tetra Cascade Globe Black 6.8ltr
£49.99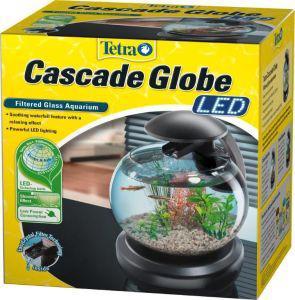 THe Tetra Cascade is a high quality filtered bowl with LED lights and filter, aimed to fit in with the modern day lifestyle of many consumers, where space and time are at a premium. The aquarium can conveniently sit on kitchen surfaces or office desktops, within living rooms or bedrooms, making it the most flexible of aquariums. The Tetra Cascade Globe is a glass aquarium with filtration system to ensure clean water and fish well-being at all times.
The Cascade Globe can be set up for specific species of subtropical fish, freshwater shrimps or plants: crucially those that can live at room temperature water.
The Tetra Cascade Globe LED is a 6.8 litre glass bowl with easy to maintain filtration system. The Tetra Cascade Globe LED is supplied with the EasyCrystal 100 Filter, which removes waste and helps maintain water quality. This uses convenient replaceable cartridges which consist of floss to catch fine particles and carbon to keep the water clear and prevent odours. Water returns to the aquarium via the waterfall feature. The Cascade Globe has an integrated LED light unit with switch mounted on top. Eight LEDs are positioned directly above the globe and provide ample illumination with minimal power consumption, the lid flips up for easier access. Both the light and filter and powered by a low voltage 12 volt transformer.
The Cascade Globe is not suitable for Goldfish or tropical fish. It has been developed for subtropical fish, (e.g White Cloud Mountain Minnows) freshwater shrimps and or plants, in other words small species that are happy at room temperature.
The Cascade Globe is supplied with detailed instructions.
£49.99
You may also be interested in:
FREE DELIVERY ON ALL ORDERS OVER £50.00 TO UK MAINLAND
sales@pet-shopper.co.uk
pet-shopper.co.uk
32 Burscough St
Ormskirk
Lancs.
L39 2ES
UK

UK ORMSKIRK CUSTOMERS Free delivery from Pet Shopper to Ormskirk area within a 5 mile radius of Ormskirk town centre. Order through "contact us" option or by phone 01695 579827