Tastybone Nylon Dental Bone Raspberry Mint
£9.99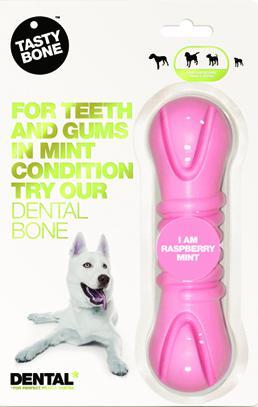 These tasty dental bones are designed to improve your dog's oral health and prevent the onset of disease. The Tastybone's unique ridges and grooves massage the gums and reduce plaque and tartar build up. When used regular this will help banish dog breath!
Suitable for medium/large breeds
Flavoured nylon chew bone
Ridges and grooves massage gums
Safe to ingest
Unique shape to aid oral hygiene
Ever-lasting refreshing flavour
They are strong, tough and bursting with raspberry mint flavour, and will satisfy your dog's urge to gnaw. Chewing these will help maintain strong and healthy gums, and they are perfectly safe to ingest. Small fragments will pass through your dog's system harmlessly. It's unique ridges and grooves help to reduce plaque and tarter, and the refreshing raspberry mint flavour helps to eliminate bad breath.
TastyBone can be washed in soap and water and will last for ages & ages.
£9.99
You may also be interested in:
FREE DELIVERY ON ALL ORDERS OVER £50.00 TO UK MAINLAND
sales@pet-shopper.co.uk
pet-shopper.co.uk
32 Burscough St
Ormskirk
Lancs.
L39 2ES
UK

UK ORMSKIRK CUSTOMERS Free delivery from Pet Shopper to Ormskirk area within a 5 mile radius of Ormskirk town centre. Order through "contact us" option or by phone 01695 579827