Superfish Pond Heater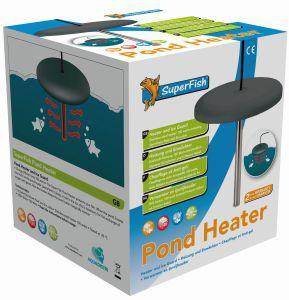 The Superfish Pond Heater will float around on your pond surface and keep an area of surface water free of ice.
Pond heater and ice guard. Energy efficient only 150 watts. The super fish pond heater protects your fish. When the pond freezes over with ice the pond heater guarantees to keep a hole in the ice, this is necessary for the exchange of oxygen and gasses. Also the heater keeps the pond water marginally warmer. Includes Styrofoam and 5m cable. Stainless steel heater 150 watts.
Without this ice free area it is highly likely that your pond fish will either suffocate or be poisoned by the build up of toxic gas.
Keeping an area of the pond free from ice also provides a source of open water for wild birds to drink and bathe.
Superfish Pond Heater Features:
Floats on the pond surface
5 metres of outdoor rubberised cable
Tested at minus 20 degrees celcius
Stainless steel casing
Ice Free area enabling birds and other wildlife a source of water
£19.99
FREE DELIVERY ON ALL ORDERS OVER £50.00 TO UK MAINLAND
sales@pet-shopper.co.uk
pet-shopper.co.uk
32 Burscough St
Ormskirk
Lancs.
L39 2ES
UK

UK ORMSKIRK CUSTOMERS Free delivery from Pet Shopper to Ormskirk area within a 5 mile radius of Ormskirk town centre. Order through "contact us" option or by phone 01695 579827