Superfish Pond Eco Plus E 8000 41w 7200L/H Pond Pump
£149.95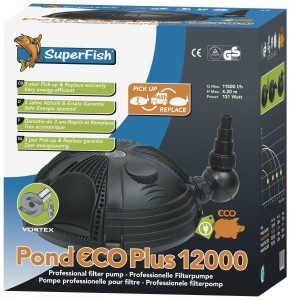 Details: To help keep your pond fish healthy and provide you with many hours of inspiration and enjoyment it is important that dissolved oxygen in the water is circulated 24 hours a day. Experts at Superfish, one of the world's leading manufacturers of pond accessories, have developed the ultra reliable range of Pond Eco Pumps.
SuperFish Pond Eco Pumps have been specifically designed and developed to move large volumes of water whilst at the same time using the minimum amount of power. The highly efficient design of the pumps synchromesh motor gives the pump high performance at very low running costs. The vortex blades of the impeller will handle solids without clogging, making it an ideal pump to use with pond filters and waterfalls. To prevent damage to the motor PondEco Pumps have built in TFR?s (Therman Resettable Fuses) which switch off automatically in the event of overheating. When cool the pump switches itself back on again after 15 to 20 minutes.
Superfish Pond Eco Pumps can be used externally, dry mounted and have a 38mm threaded inlet and outlet. There are 5 models in the PondEco range with flow rates between 3,600 and 14,200 litres per hour and head heights of up to 4.1m. For even greater piece of mind SuperFish offer a 48 hour home pick up and replacement guarantee on their range of PondEco Plus Pumps. If your pump breaks down for whatever reason it could have a detrimental effect on the health of your fish. With SuperFishs pick up and replacement guarantee, a new pump will be delivered to your home within 48 hours, entirely free of charge, during the product?s three year guarantee period. Furthermore, Pond Eco Plus pumps are exceptionally energy efficient, moving large volumes of water with minimum power consumption. The PondEco Plus range includes four models with flow rates between 7,150 and 18,500 litres per hour and head heights up to 5.5m.
.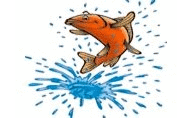 .

£149.95
FREE DELIVERY ON ALL ORDERS OVER £50.00 TO UK MAINLAND
sales@pet-shopper.co.uk
pet-shopper.co.uk
32 Burscough St
Ormskirk
Lancs.
L39 2ES
UK

UK ORMSKIRK CUSTOMERS Free delivery from Pet Shopper to Ormskirk area within a 5 mile radius of Ormskirk town centre. Order through "contact us" option or by phone 01695 579827