Soopa Coconut Dog Treats
£3.89
Soopa's 100% coconut dog chews are an excellent source of fiber, powerful anti-oxidants, vitamins, minerals and amino acids. Made from 100% fresh coconut meat, with NO sugars, salt, preservatives or chemicals added. Dogs love the tropical taste and coconut also acts as a natural antiviral, antifungal, antibacterial and anti parasitic. By improving the absorption of calcium and magnesium coconut also supports the development of strong healthy bones and teeth.
soopa pet Coconut 100g
Super nutritious and super delicious.
Rich in Vitamin E & Powerful Anti Oxidants
Supports a healthy immune system
Helps maintain pets healthy skin and coat
Supports healthy weight management
Soopa vegan dog treats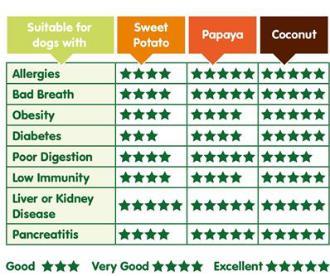 RRP: £3.99
£3.89
You may also be interested in: