Plutos Cheese & Chicken Dog Bone Treat Small
£2.49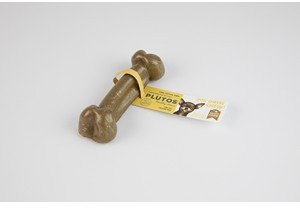 PLUTOS Cheese & Chicken Chew 100% NATURAL high quality milk protein, lactose and gluten free with irresistible flavour. Doesn't splint allowing dogs to chew and enjoy until the end. PLUTOS is hard enough to be enjoyed as a chew, gets sufficiently soft with saliva and biting action to be safely chewed by different dog ages and sizes.
Pluto's contains casein a milk protein which has an antibacterial effect, neutralizes cavities and bacteria, prevents formation of teeth plaque and eliminates bad breath.
Fat loss Casein slow digestibility promotes fat loss because increases metabolism and satisfaction feeling.
it takes a lot of effort to digest Casein protein, therefore creates a feeling of Safety
PLUTOS chews were especially designed not to splinter preventing teeth from breaking, choke hazard or stomach / intestine blockages. Irresistible flavours
a great variety, six flavours. Healthier chew in the market
100% Natural, Lactose, gluten and fat free, High quality protein, Nutritious a delicious Chew.
100% NATURAL SNACK CHEWS Our products are made from natural ingredients, even the colors are natural.
DENTAL CARE Some of the proteins we use act like a bactericide killing the bacteria in the teeth. Others will help because they are though enough to "polish" teeth!
LACTOSE, FAT AND GLUTEN FREE So there are no allergies or intolerance.
HIGH QUALITY PROTEIN We only use Human Grade proteins. Good for us, good for them.
NO SPLINTERS Created in a way that there are no splinters to hurt our friends
LOW CALORIES Because we just add a little fat
£2.49
You may also be interested in:
FREE DELIVERY ON ALL ORDERS OVER £50.00 TO UK MAINLAND
sales@pet-shopper.co.uk
pet-shopper.co.uk
32 Burscough St
Ormskirk
Lancs.
L39 2ES
UK

UK ORMSKIRK CUSTOMERS Free delivery from Pet Shopper to Ormskirk area within a 5 mile radius of Ormskirk town centre. Order through "contact us" option or by phone 01695 579827