Petbloon Balloon Dog Toy
£9.99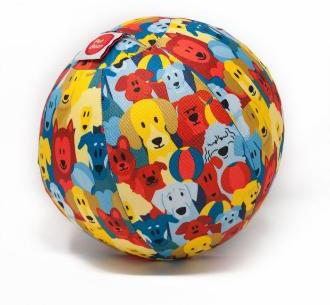 PetBloon is a bright and light waterproof polyester balloon cover transforming a standard balloon into a fun, safe dog toy. The hook and loop seal retains the baloon away from teeth and paws. Simply replace a burst balloon with a new one. - Suitable for indoor and outdoor play whatever the weather.
Light and floaty
safe, durable and lots of fun
Washable and reusable
works with any standard baloon
Stops loud balloon pops which can frighten dogs
Folds to pocket size to take on walks
Twist balloon to deflate and reuse - No knot required
Includes 1 PetBloon Cover and 3 latex Balloons
WATER RESISTANT BALLOON COVER Helps prevent pops and balloon dangers for pets
LARGE WOVEN LABEL Allows smaller dogs to carry the inflated toy around
HOOK & LOOP SEAL Keeps the balloon securely encapsulated - dogs can't get at the latex which makes choking less likely.
MADE TO BE PRACTICAL PetBloon is your anywhere/anytime dog toy. They go barking mad for it.
FOLDS TO POCKET SIZE Balloon easily deflates - simply twist it rather than tying - PetBloon is easily reusable and folds to fit in your pocket or bag
INDOOR OR OUTDOOR PLAY Simply a balloon - lower risk of damage or injury than heavy balls and toys
USE ANY STANDARD BALLOON Balloon gone pop? Use any standard latex balloon to replace it - much cheaper than a whole new toy!
LIGHT & FLOATY Safe, durable and lots of fun for all the family
£9.99
FREE DELIVERY ON ALL ORDERS OVER £50.00 TO UK MAINLAND
sales@pet-shopper.co.uk
pet-shopper.co.uk
32 Burscough St
Ormskirk
Lancs.
L39 2ES
UK

UK ORMSKIRK CUSTOMERS Free delivery from Pet Shopper to Ormskirk area within a 5 mile radius of Ormskirk town centre. Order through "contact us" option or by phone 01695 579827