Pet Cargo Cabrio, Airline Approved Carrier.
£36.99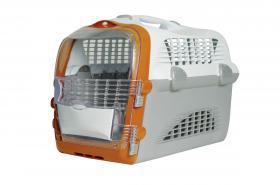 PET CARGO CABRIO, AIRLINE APPROVED.
Catit Cat Cabrio White/grey/orange 51x33x35cm
Opening top hatch.
Clear front view door.
External access to removable bowls.
Easy lock.
Complete ventilation.
Designed to be secured in a vehicle with a conventional seatbelt.
Airline approved.
In its own ultimate class, Pet Cargo® Cabrio is a pet-and-people-friendly carrier system that combines superior safety features with ease of use for five-star pet accommodations on the go. Let's face it; traveling with your pet can be very stressful for the both of you. With Pet Cargo® Cabrio, you can rest assured that you are providing the safest, most comfortable environment for your beloved pet.
Ideal for those necessary vet visits when your pet is highly stressed, the Pet Cargo® Cabrio has innovative features including its Opening Top Hatch which allows you to place and remove your pet from the carrier with ease. For added security, the Pet Cargo® Cabrio can be secured in your vehicle with a conventional seatbelt.
Traveling with Your Pet
As a valued member of your family, safety precautions must be taken when traveling with your pet. With the Pet Cargo® Cabrio, you can secure your pet in your vehicle, helping to protect him in the event of any sudden movements or accidents. Unrestrained pets in a vehicle may pose a serious threat to all passengers, including your trusted companion. Never leave your pet unattended in a vehicle. No matter the exterior climate conditions, direct sunlight transforms your vehicle into an "oven". As with young children, dogs and cats have difficulty regulating their body temperature. Exposure to extreme heat for even a short period of time may have lethal consequences.
If you are planning to travel with your pet by airplane, contact your airline for their rules and guidelines. Prior to your voyage, you must inform your airline of your plans to travel with your pet. Also consult your veterinarian to ensure a safe,less stressful, comfortable trip.
Winner of 'Best Cat Carrier 2008/09' as voted by readers of Your Cat magazine.
Always carry an ample supply of food and fresh water when traveling with your pet.
RRP: £39.99
£36.99
FREE DELIVERY ON ALL ORDERS OVER £50.00 TO UK MAINLAND
sales@pet-shopper.co.uk
pet-shopper.co.uk
32 Burscough St
Ormskirk
Lancs.
L39 2ES
UK

UK ORMSKIRK CUSTOMERS Free delivery from Pet Shopper to Ormskirk area within a 5 mile radius of Ormskirk town centre. Order through "contact us" option or by phone 01695 579827