Pest Stop Window Fly Stickers (pack of 4)
£6.60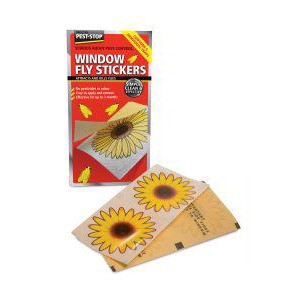 Pest Stop's Window Fly Stickers are a fantastic discreet, attractive and practical way of dealing with fly problems in the home or office. These are economical and unobtrusive, safe around children and pets and effective for up to 3 months. Use no chemicals and they emit no odour, meaning you can set to work and forget they are even there. The decorative floral design allows the stickers to remain discreet and can be placed on practically any window near to where fly activity is seen. Pest-Stop is the UK's leading manufacturer and supplier of high quality pest control products. We are serious about pest control and offer a comprehensive range of specially designed products to successfully prevent, deter and remove garden and household pests.
Discreet, attractive and practical
Simple solution to bothersome house flies
Exploits the attraction that flies have to windows and light
Safe and effective for up to 3 months - no chemicals or odours
Powerful adhesive will hold the largest houseflies and bluebottles
£6.60
You may also be interested in:
FREE DELIVERY ON ALL ORDERS OVER £50.00 TO UK MAINLAND
sales@pet-shopper.co.uk
pet-shopper.co.uk
32 Burscough St
Ormskirk
Lancs.
L39 2ES
UK

UK ORMSKIRK CUSTOMERS Free delivery from Pet Shopper to Ormskirk area within a 5 mile radius of Ormskirk town centre. Order through "contact us" option or by phone 01695 579827