Natures Menu Country Hunter Rabbit with Cranberry 600g Cans for Dogs
£2.79
Rabbit with Cranberry from the Country Hunter range a grain free complete and balanced real meat recipe suitable for allergy sensitive dogs.
Rabbit is a firm favourite amongst all breeds of dogs, often the catch of choice in the British countryside. It is packed with vitamins B12, B3 and B6, and is a great source of the mineral Selenium which the body uses to create antioxidants. Cranberry contains high levels of Vitamin C, phyto-nutrients and antibacterial properties.
Country Hunter 600g cans are packed with 100% great country hunter meaty chunks, vegetables and fruits.
Composition: Rabbit (28%), Broth (25%), Chicken (15%), Peas (7%), Swede (7%), Carrots (7%), Apples (4%), Cranberry (4%), Seaweed (1%), Spinach (1%), Sunower Oil (<1%), Yucca Extract, Green Tea Extract, Grape Seed Extract, Yeast Extract.
Analytical Constituents: Protein 10.9%, Crude Oils & Fats 5.5%, Crude Ash 2.5%, Crude Fibres 0.8%, Moisture 76%.
Nutritional Additives: Vitamins: Vitamin A 3,000iu, Vitamin D3 200iu, Vitamin E 30mg Trace elements: Zinc sulphate monohydrate 15mg; Manganese sulphate monohydrate 3mg; Calcium iodate anhydrous 0.75mg; Sodium selenite 0.03mg.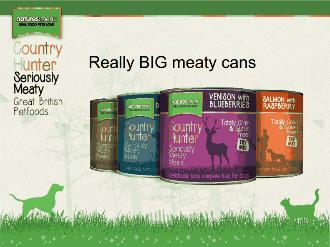 Country hunter is a seriously meaty dog food from Natures Menu
RRP: £3.09
£2.79
You may also be interested in: