Mr Johnsons Supreme Degu and Chinchilla Pellets 900g
£2.99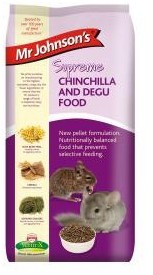 Mr Johnsons Degu food is a tasty and balanced complete food. Degus are strictly vegetarian and have special nutrional needs. This food is a special formula containing vegetable nutrients.
Mr Johnson's Supreme CHINCHILLA & DEGU FOOD is a nutritious and wholesome pellet – supplying your pet with a tasty, healthy food high in fibre to aid the normal digestive function and to help with dental wear. Chinchillas & Degu's require a diet high in indigestible fibre, low in sugar and fat.
High fibre, low fat mono component pellets for Chinchillas & Degus - with verm-x herb blend for intestinal health.
Mr Johnson's Supreme CHINCHILLA & DEGU FOOD is a complementary feed and should be fed along with unlimited access to good quality hay which is an important source of fibre and an essential part of your pets diet. A small quantity of fresh greens & suitable vegetable should also be fed daily and fresh clean water must always be available.
Composition Wheatfeed, oatfeed, grassmeal, extracted sunflower, barley, soya, vegetable fat, limestone, salt, dicalcium phosphate, verm – x herb blend.
Analytical Constituents
Crude protein 17.0%, Crude fibre 14.5%, Crude oils & fats 4.4%, Crude ash 7.6%, Calcium 1.0%,Sodium 0.18%, Phosphorous 0.6%
£2.99
You may also be interested in:
FREE DELIVERY ON ALL ORDERS OVER £50.00 TO UK MAINLAND
sales@pet-shopper.co.uk
pet-shopper.co.uk
32 Burscough St
Ormskirk
Lancs.
L39 2ES
UK

UK ORMSKIRK CUSTOMERS Free delivery from Pet Shopper to Ormskirk area within a 5 mile radius of Ormskirk town centre. Order through "contact us" option or by phone 01695 579827