Komodo Calcium With Extra Vitamin D3 105g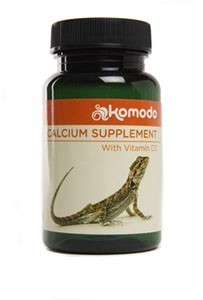 Details: KOMODO CALCIUM SUPPLEMENT WITH VITAMIN D3 105G Komodo Calcium Supplement with Vitamin D3 is a superior high potency product designed to help provide a balanced diet and specifically formulated to aid in the prevention of conditions such as Metabolic Bone Disease, soft shell and other nutritional disorders. Developed with the assistance of veterinary medical research and professional herptoculturilists. Expressly designed to provide safe and effective levels of D3 with a broad spectrum of additional vitamins and calcium for the widest range of reptiles and amphibians. Particularly recommended by herpetologists for use with many species of tortoise.
£6.99
FREE DELIVERY ON ALL ORDERS OVER £50.00 TO UK MAINLAND
sales@pet-shopper.co.uk
pet-shopper.co.uk
32 Burscough St
Ormskirk
Lancs.
L39 2ES
UK

UK ORMSKIRK CUSTOMERS Free delivery from Pet Shopper to Ormskirk area within a 5 mile radius of Ormskirk town centre. Order through "contact us" option or by phone 01695 579827