King British Just Fix It Underwater Fixing Solution
£6.49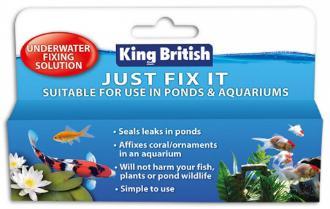 King British Just Fix It is an underwater repair fixing solution. It is an adaptable 2 part sealant, ideal for simple repairs in garden ponds and aquariums or to affix coral / ornaments in aquariums. Will not harm fish, plants or wildlife. Simple to use - no need to drain water, as product will set underwater!
HOW TO USE
If you are sealing a liner or flexible pond, pack any space behind the pool to provide a firm surface for adhesion.

Clean any loose dirt away. The seal will adhere better to a roughened surface.

Estimate the size of the hole that you have to seal, or the surface of the coral/ornament that you wish to affix.

Take equal quantities of each stick of material and blend the two together until the colours merge and no streaks can be seen. Ensure gloves & tools are kept moist at all times to avoid sticking. Then continue to blend for at least a further minute.
5a. Ponds - Spread Just Fix It at least 1" (2cm) around the leak to enable it to adhere to the pool surface, generously packing the hole, ensuring no space for further leaks.
5b. Coral/ornaments - Spread Just Fix It generously over the surface of the coral/ornament to be affixed to the aquarium and then press the coral/ornament into place.
King British Just Fix It will harden in several hours, even underwater. However, when water is very cold it could take up to 24 hours to harden completely
£6.49
FREE DELIVERY ON ALL ORDERS OVER £50.00 TO UK MAINLAND
sales@pet-shopper.co.uk
pet-shopper.co.uk
32 Burscough St
Ormskirk
Lancs.
L39 2ES
UK

UK ORMSKIRK CUSTOMERS Free delivery from Pet Shopper to Ormskirk area within a 5 mile radius of Ormskirk town centre. Order through "contact us" option or by phone 01695 579827