Hills Feline Sensitive Stomach Cat Food 1.5 Kg
£16.99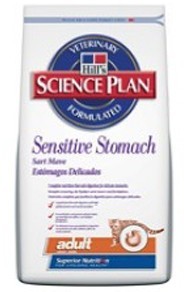 Details: Feline Sensitive Stomach Adult Science Plan*
NUTRITIONAL CHARACTERISTICS
(Compared to Science Plan* Feline Adult) Protein - high proportion derived from egg Carbohydrate - higher proportion derived from rice Fibre - in part derived from oat fibre
INDICATIONS
Science Plan* Feline Sensitive Stomach Adult with Egg & Rice is formulated to meet all the nutritional requirements of healthy cats from maturity until 7 years of age. It combines highly digestible ingredients with a blend of soluble and insoluble fibre and additional antioxidant vitamins to promote gastrointestinal health. Objective - To provide ingredients that can be readily digested and absorbed in combination with a blend of soluble and insoluble fibre, to help support normal gastrointestinal motility and function, and proven effective levels of biologically active antioxidants. Science Plan Feline Sensitive Stomach Adult with Egg & Rice also contains a Superior Antioxidant Formula to reduce oxidative cell damage.
NOT RECOMMENDED FOR
Kittens
Pregnant and lactating queens.
During pregnancy or lactation queens should be switched to Science Plan Feline Growth*.
FEEDING GUIDE
Many factors such as environmental conditions, activity level, stage of life and individual variation (temperament, stress) can affect the amount of food needed. Adult cats should be fed only sufficient food to maintain their ideal body weight, in one or two meals per day. Cats with a tendency to gastrointestinal upsets will often benefit from being fed a number of smaller meals each day. Science Plan Feline Sensitive Stomach Adult should not be supplemented as such additions may upset the nutritional balance. Fresh water should be available at all times. The following feeding ranges are intended as a starting point only and should be adjusted as required to maintain optimal body weight. BODY DAILY AMOUNT OF WEIGHT kg (lb) FELINE SENSITIVE STOMACH ADULT Dry grams (oz) 2 (4.4) 30 - 40 (1.1 - 1.4) 3 (6.6) 45 - 55 (1.6 - 1.9) 4 (8.8) 55 - 70 (1.9 - 2.5) 5 (11) 65 - 85 (2.3 - 3.0) 6 (13.2)70 - 95 (2.5 - 3.4)
£16.99
You may also be interested in:
FREE DELIVERY ON ALL ORDERS OVER £50.00 TO UK MAINLAND
sales@pet-shopper.co.uk
pet-shopper.co.uk
32 Burscough St
Ormskirk
Lancs.
L39 2ES
UK

UK ORMSKIRK CUSTOMERS Free delivery from Pet Shopper to Ormskirk area within a 5 mile radius of Ormskirk town centre. Order through "contact us" option or by phone 01695 579827