Chuckit Ultra Grip 25 Ball Launcher Medium 64cm
£14.99
Long range launcher perfect for active dogs and wide open spaces. 64cm (25") long with comfortable rubber grip. Designed for hours of easy fetch games. Minimal effort for maximum distance. Chuckit Ball included.
Chuckit Ball No ordinary ball, designed for the most demanding use. Developed to have high bounce, high buoyancy and high visibility. Durable, the Ultra Ball lasts longer than ordinary tennis balls.
Colours may vary.
Chuckit dog toys have revolutionised the game of fetch. They make a fantastic range of quality dog toys which are fun, functional and innovative. Floating, flying, soaring, bobbing and even toys for tug. Chuckit dog toys are, in our opinion, the best that money can buy.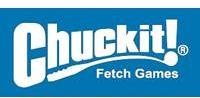 £14.99
You may also be interested in: