Betty Millers Big Biscuit Cheese x 20
£15.00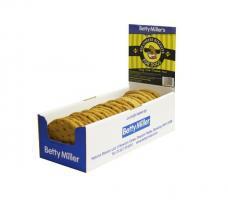 Cheese Big Biscuits
Betty Millers's big cheese biscuits are delicious, naturally baked treats for dogs. They are baked using simple, wholesome, natural ingredients in the same way you would do if you were making them at home!
A big tasty biscuit made with mature cheddar cheese, perfect! Betty Miller's cheese biscuits are a real treat for any dog. No artificial colours, no added preservatives and no added sugars.
Composition: Wholemeal flour, chedder cheese, oils & fats and rosemary extract.
Analytical Constituents: Crude protein: 11%, Crude oils & fats: 6.4%, Crude fibres: 2.2%, Crude ash: 2%.
Betty Miller is one of the few UK pet food bakeries that actually bake a complete dog food and treats in an oven. Our process is simple; we mix natural ingredients together into dough, cut it into shapes, and then bake at a low temperature for 15-20 minutes and leave to cool. This slower, gentler way of cooking retains more of the natural goodness, taste and aromas of the nutritious and delicious natural ingredients. Nothing artificial needs to be added. Your dog will be able to smell and taste the actual ingredients within the product. Nearly all dog food in the UK is manufactured using a high temperature, rapid extrusion process; a lot of the goodness and flavour of the original ingredients are lost in production. We all know that good tasting food starts with good quality ingredients. By slowly oven baking our ingredients, we can maximise taste for your dog without the need to add taste enhancers, flavours or preservatives. Enjoy!
£15.00
You may also be interested in:
FREE DELIVERY ON ALL ORDERS OVER £50.00 TO UK MAINLAND
sales@pet-shopper.co.uk
pet-shopper.co.uk
32 Burscough St
Ormskirk
Lancs.
L39 2ES
UK

UK ORMSKIRK CUSTOMERS Free delivery from Pet Shopper to Ormskirk area within a 5 mile radius of Ormskirk town centre. Order through "contact us" option or by phone 01695 579827