Pet Heads Mini Combo Pack 3 X 60ml Pack
Details: The Pet Head range offers a broad variety of shampoos and conditioners for all breeds of dogs and cats.
Great for trips & travel Perfect for pampering
The Pet head Kit Includes:
Dry Clean- Waterless spray shampoo Get fresh in a flash! This spray-on non-rinsing shampoo cleans the coat without water
Dirty Talk- Deoderising shampoo This powerful and gentle formula neutralises odours, not just covers them up!
Poof!- Magical Deodorising Spray This magical spray neutralises and eliminates odours on contact! Best for applying between baths.
475ml Pet Head range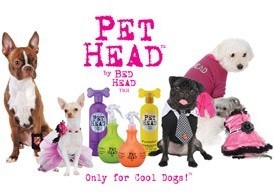 £9.99
You may also be interested in: