Healthy Paws Discontinued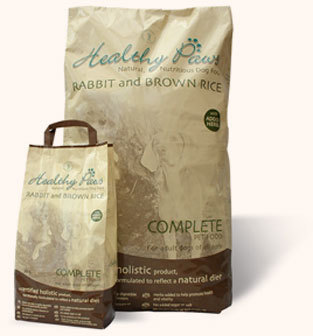 HEALTHY PAWS RABBIT AND BROWN RICE HOLISTIC COMPLETE DOG FOOD 15kg.
Discontinued
Ingredients : Brown Rice, Rabbit meat meal, Oats, Dried Carrot, Alfalfa, Seaweed, Chicken Oil, Fish Oil, Organic Sunflower Oil, Minerals, Vitamins, Dandelion herb, Cleaver herb, Dried Cranberry.
Typical Analysis : Protein 21%, Oil 7.5%, Fibre 2.5%, Ash 6%, Vitamin A 10,000iu/kg, Vitamin D3 1,500iu/kg, Vitamin E 75iu/kg, Copper 18mg/kg.
complete food Rabbit & Brown Rice is a nutritionally balanced complete dog food formulated from quality natural ingredients for all stages of your dogs adult life.
No flavour enhancers, colourings, chemical additives or preservatives that you can find in other dog foods. There are no additives, meat and animal derivatives, by-products or any other unsuitable ingredients appropriate for the dog.Use the highest quality meat protein and other natural ingredients in a well balanced and complete formula. The use of low quality ingredients, meat and animal derivatives, by-products and chemical preservatives that are found in other dog foods may be associated with numerous ailments including skin problems, allergies, dental disease, poor health, digestive disorders and internal organ diseases. Rabbit provides a highly digestible source of good quality protein that is very nutritious. Whole brown rice provides an excellent source of highly digestible carbohydrates for short term energy and dietary fibre that is gentle on the stomach.
Oats added to provide a slower release of energy along with carrot and cranberry providing valuable vitamins and minerals including vitamin C. Fish oils and organic sunflower oil provide a source of omega 3 essential fatty acids and Linoleic acid which are essential for maintaining a healthy skin and coat, whilst Seaweed is an excellent source of iodine and minerals. In addition have added the natural herbs alfalfa, dandelion and cleavers for their known health benefits.
Healthy Paws Rabbit & Brown Rice is hypo-allergenic as it does not contain any wheat, wheat gluten, beef, soya, dairy products or any other ingredients that are associated with allergies or intolerences. It is a certified holistic product. This ensures that the product is manufactured to clearly identifiable quality standards and that the food contains a range of ingredients that reflect the natural diet of the dog.
FREE DELIVERIES ON ALL ORDERS OVER £50.00
More products here Healthy Paws dog foods,

£56.95
You may also be interested in: