Almo Nature Cat Food Chicken and Cheese x 24
£24.00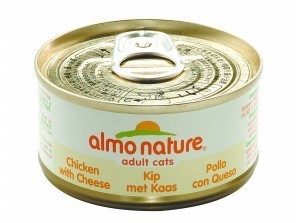 Details: Almo Nature Cat is part of the Natural category of products because they are only made of white meats, red meats, fish and even vegetables from parts that are suitable for human consumption but are not marketed as such for commercial reasons. These ingredients are preserved in their cooking broth with the sole addition of a small percentage of rice. All by-products are absolutely excluded, and so are mineral and vitamin supplements and additives. The range has 26 recipes and includes different types of red and white meat and fish, cheese (a source of calcium), eggs (a source of vitamins and protein) and vegetables (that provide fibre for eliminating hairballs).
Ingredients: Chicken with cheese [70 g]: chicken 70%, cheese 5%, chicken broth 24%, rice 1%. Raw proteins 19%, raw fibres 1%, raw fats 1.5%, raw ash 2%, moisture 76%. 792 kcal/kg.
RRP: £26.16
£24.00
You may also be interested in:
FREE DELIVERY ON ALL ORDERS OVER £50.00 TO UK MAINLAND
sales@pet-shopper.co.uk
pet-shopper.co.uk
32 Burscough St
Ormskirk
Lancs.
L39 2ES
UK
UK ORMSKIRK CUSTOMERS Free delivery from Pet Shopper to Ormskirk area within a 5 mile radius of Ormskirk town centre. Order through "contact us" option or by phone 01695 579827