Acana Grasslands Cat Food 5.4kg
£46.99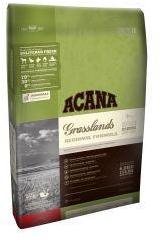 ACANA Grasslands Cat & Kitten Food.
Reflecting Alberta's fertile grasslands, ACANA Grasslands is loaded with local lamb, whole eggs, wild-caught fish and cage-free duck - all delivered FRESH each day. ACANA's fresh meat diversity mirrors your cat's natural diet, and generous infusions of New Brunswick herring promote her peak conditioning.
Grain-free to reduce unwanted carbohydrates, ACANA features local fruits and vegetables for a rich, natural supply of phytonutrients.
Prepared in our award-winning kitchens from Canada's best and freshest ingredients, ACANA keeps your cat happy, healthy and strong - guaranteed!
Ingredients: COMPOSITION Fresh boneless lamb (15%), dehydrated lamb (13%), fresh boneless duck (8%), dehydrated pollock (7%), duck fat (5%), green lentils, fresh yellow perch (5%), dehydrated herring (5%), red lentils, dehydrated salmon (4%), chickpeas, green peas, herring oil (3%), fresh whole eggs (3%), lamb fat (2%), sun-cured alfalfa, dried kelp, pumpkin, butternut squash, spinach greens, carrots, apples, pears, cranberries, chicory root, dandelion root, chamomile, peppermint leaf, ginger root, caraway seeds, turmeric, rose hip, freeze-dried lamb liver, freeze-dried duck liver, freeze-dried lamb.
RRP: £48.99
£46.99
FREE DELIVERY ON ALL ORDERS OVER £50.00 TO UK MAINLAND
sales@pet-shopper.co.uk
pet-shopper.co.uk
32 Burscough St
Ormskirk
Lancs.
L39 2ES
UK
UK ORMSKIRK CUSTOMERS Free delivery from Pet Shopper to Ormskirk area within a 5 mile radius of Ormskirk town centre. Order through "contact us" option or by phone 01695 579827